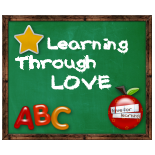 Nathan accomplished-
R&S English: completed four lessons. We have made it into familiar territory for Nathan--verbs, and we are cruising along nicely. I have been combining a few lessons here and there as well as having him just do a few lessons orally.
Saxon Math: completed three lessons plus some Math Mammoth fraction work. We have been so unorganized since all the activities started that we misplaced his math book for a while. He had been doing math lessons at the library and thought we left it there so we started in with 7/6 until we found it. He completed two lessons.
WW-set this aside until this slow down a bit
R&S Spelling-also set this aside
Kaleb accomplished-
OPGTR: lesson 50-53. We're splitting those big lessons in half right now and reviewing heavily from ending blends on. He has also been working on a few ending and beginning blends worksheets I found online. I'm putting together some fun activities and games to go along with OPG and serve as a review.
ETC: Kaleb LOVES ETC and I love it for him, but it is sloooooooow. We're almost finished with book one and still in cvc words! Still a good review and Kaleb can do it on his own.
Saxon Math: We've had to put this off until things slow down a bit. We have just been playing some fun math games, and Kaleb taught himself how to count and add by tens!!
Together-
History: We have made it through the Legend of the Trojan Horse. I hope to move a bit faster in the next couple of weeks and get caught up again on our timeline and memory cards.
Science: We finished up Ch 7 Space Rocks. We spent a lot of time on You Tube looking at videos of comets, asteroids, and such. Fun! A week or so ago, we got to see a bit of Orionid asteroids. Awesome timing!
Since co-op and soccer have ending, we're down to just weekly golf lessons. Next week we will add back all that was put off, and get back into using our workboxes. We got into sort of a survival mode during these busy weeks. Nathan had his books piled on the table in the school room and I had Kaleb's books piled on the end table in the living room, and just did what we could when we could. I'm READY to get back to a more organized day, and I'm ready to put more FUN back into our school day.